Looking for the right plugin for your website in WordPress gallery? There are so many plugins available for the WordPress photo gallery, but the problem is that most can either slow down your website, or they are incredibly difficult to use.
We have created a detailed comparison of the performance, features and quality of the best photo gallery plugins in WordPress to help you pick the right solution.
Our goal is to help you find the plugin for the WordPress photo and video gallery, which is simple, easy to use, and has all the features you need.
Our Best WordPress Gallery Plug-in Criteria
A perfect WordPress gallery plugin should, in our opinion, be quick , easy to use, and have all the necessary features to create beautiful galleries (such as lightboxes, image navigation, albums, pagination, etc).
The plugin in the gallery will give a great user experience and also help boost your SEO image.
4 Plugins for Best WordPress Gallery
We've selected the four most popular plugins in the market for the WordPress photo gallery.
We'll look at the speed, functionality, ease of use and reliability of these plugins in our comparison:
Envira Gallery
Modula
Foo Gallary
NextGEN Gallery
Let's start with our Comparision.
Speed
Peed is key when selecting a photo gallery plug-in for WordPress. It not only affects your WordPress SEO but it also affects your site's user experience.
If you are using a portfolio or photography site gallery plugin then you simply can not afford to compromise on speed.
For each of these plugins, we performed a speed test using the same images without changing any default settings. Below are our findings: We'll look at the speed, functionality, ease of use, and reliability of these plugins in our comparison:
| | | | |
| --- | --- | --- | --- |
| Gallery Plugin | Page Load Time | Requests | Page Size |
| Envira Gallery | 665ms | 23 | 988KB |
| Modula | 696ms | 28 | 948KB |
| NextGEN | 867ms | 35 | 1.0MB |
| FooGallery | 917ms | 27 | 591KB |
As you can see in the results above, Envira Gallery has emerged as the fastest plug-in to load the WordPress image gallery. Modula came with barely few milliseconds difference and smaller page size as a very close second.
The reason Envira Gallery and Modula are so fast is that both are well-coded and highly speed-optimised. If your main concern (which it should be) is performance and speed, then Modula and Envira Gallery are both great options.
Winner: Between Envira Gallery and Modula it is a tie
Easy of Use
Creating galleries of images isn't as simple as uploading one image to your posts. You need to pick shapes, pick columns, add thumbnail sizes, choose animations from the lightbox etc.
The method is relatively daunting for most beginners. The goal here is to find a plugin for a WordPress photo gallery that is both strong and at the same time pleasant to beginners.
Envira Gallery
Envira Gallery embraces and adheres to the guidelines and best practices for coding WordPress. It delivers a user interface that blends seamlessly into your WordPress admin region.
Creating a new gallery is pretty easy and welcoming to beginners.
In addition, Envira Gallery comes with a Gutenberg block that allows you to easily add photo galleries to any WordPress post and page. You can also change gallery settings directly from the edit screen for the post.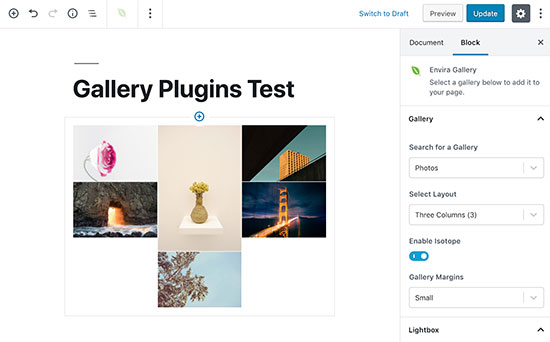 Classic editor users can easily attach any gallery or album to your post/page using the shortcode or the button above the post editor.
Besides that Envira Gallery shows you the template tag you can use in your WordPress templates as well. It is particularly useful if you are designing a client's website and want to add galleries straight into the theme.
Modula
Modula Gallery is using a similar approach to building modern photo galleries. You can simply upload your files to create a photo gallery, or select them from the media library.
You can find all of the gallery settings grouped in tabs below the pictures. Gallery design, theme, lightbox, and other settings can be changed from here. You will need to copy the gallery shortcode and paste it using the Shortcode block in the Gutenberg editor to integrate the gallery into WordPress posts and pages.
There are currently no sidebar widgets or Gutenberg blocks to make the Galleries easier for users to insert.
FooGallery
As with Envira Gallery and Modula, FooGallery takes a similar approach. They use a simple user interface that looks like WordPress and sounds like it.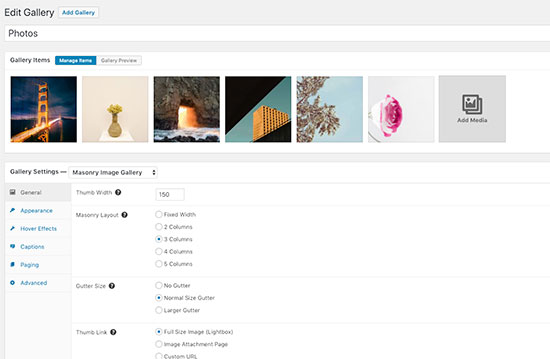 You can change the gallery settings in great detail below the images after you have uploaded your pictures.
FooGallery makes the installation of photo galleries simple too. To show your photo galleries anywhere in WordPress you can use the built-in Gutenberg block, shortcode or sidebar widget. This also adds a button to pick and insert galleries atop the Classic Editor.
Unlike Envira Gallery, FooGallery does not display the template tag to insert your gallery into files or templates on theme.
NextGEN Gallery
NextGEN is a little different from our three other candidates. To store your files, it brings its own user interface, database tables, and separate directories. This is why the NextGEN user interface in WordPress looks a little confusing.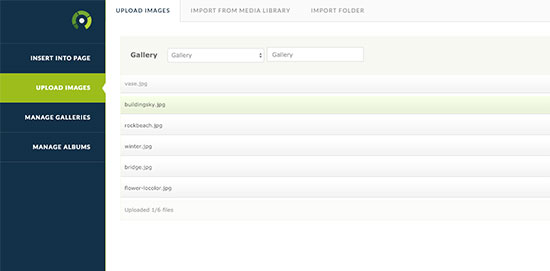 It does offer a beginner gallery wizard that can be helpful. It will however take some time for users to understand how to upload photos and create a gallery. You may also consider inserting the gallery into your post / page a little difficult.
NextGen adds a block of Gutenberg that lets you create and add galleries from the edit screen of the post. This attaches a button to the mail editor for classic editor users.
Winner: No winner. Envira, Modula, and Foo Gallery all offer a user-friendly interface.
Features
You need features such as lightboxes, full-screen mode, galleries, pagination, navigation, slideshow, password protection, EXIF metadata, social media sharing, and more to create a beautiful photo gallery.
Nonetheless, it is important to note that too many features will slow down your site, so let's look at how our competitors approach the usability and functionality balance.
Envira Gallery
Envira Gallery is first developed from a smartphone approach. That means out of the box, it's totally sensitive.
It allows you to easily pick thumbnail sizes, animations, gallery layouts, from the single user interface to add meta tags for your images.
Besides the built-in apps, there are loads of apps you can incorporate by adding add-ons like gallery templates, social media, photos, password security, image security, collections, slideshow, Pinterest, image proofing, WooCommerce support, and more.